Columbian Special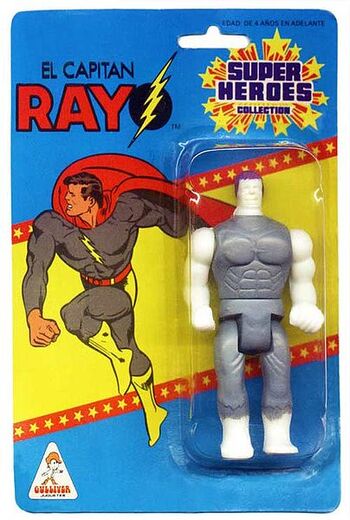 Name:
Abominable Snowman


Origin:
In 1986, an Abominable Snowman action figure was produced by Gulliver Juguetes, a Latin-American toy company located in Brazil for their Super Heroes Collection, part of their Super Powers Collection line, but without direct ties to any DC Comics character.


Figure Stats:
His Spanish name was 'Hombre de las Nieves', literally "The Man of the Snows." He was the enemy of their Captain Ray/El Capitan Rayo (Captain Lighning) character. The figure was available in Colombia.


Comments:
As a collectible, the character has the distinction of being the rarest of the Super Powers/Super Amigos/Super Heroes Collection branded figures. This line combines pieces from the two previous South American knock-offs, and even a different companies products altogether. The card art appears to be that of Captain Ray, even down to the same company logo, Gulliver Juguetes. But the art is on the wrong side, is the wrong size, and the chest symbol on Captain Ray has changed. The logo however, still says Super Heroes. Still further, if you look closely, you'll see a recast of a Marvel Comics action figure, the Hulk (Mego Pocket Pals), in an otherwise DC Comics line of figures. To top it off, the cardback inexplicably, shows a mix of DC and Marvel characters!

Ad blocker interference detected!
Wikia is a free-to-use site that makes money from advertising. We have a modified experience for viewers using ad blockers

Wikia is not accessible if you've made further modifications. Remove the custom ad blocker rule(s) and the page will load as expected.