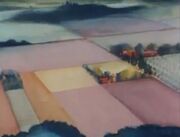 Agriculture is the science and art of food production, as well as anything else used to sustain or enhance intelligent life forms. There are a wide variety of agricultural occupations.
Glacia, a country located in the Arctic Circle, was a nation that was cold and without agriculture, until the Super Friends helped the Glacians develop a means of warming the climate of their homeland.[2]
Agricultural occupations
Agricultural products
Things used for agriculture
Appearances/References
References
↑ As seen in The Balloon People.
↑ As seen in The Weather Maker.
External Link
Ad blocker interference detected!
Wikia is a free-to-use site that makes money from advertising. We have a modified experience for viewers using ad blockers

Wikia is not accessible if you've made further modifications. Remove the custom ad blocker rule(s) and the page will load as expected.