You may be looking for Amazons (Earth-2A).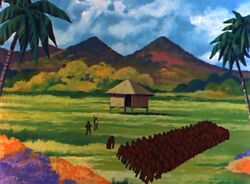 The Amazon Rainforest is located in South America, along the Amazon River. The legendary Xingu Tree is located in this rainforest. This large rainforest is located in Brazil, Peru, Colombia, Venezuela, Ecuador, Bolivia, Guyana, Suriname and French Guiana.
Locations
Appearances
The New Adventures of Superman (1966-70)
References
↑ As seen in The Ape Army of the Amazon.