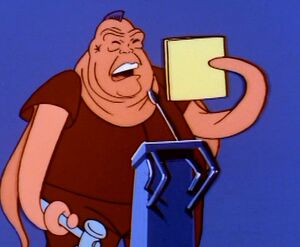 The Annual Intergalactic Underworld Auction is an auction held yearly for members of the Intergalactic Underworld. The first auction was held in the year 1452. The Superfriends members Black Vulcan, Wonder Woman and Firestorm infiltrated the 532nd Annual Intergalactic Underworld Auction, which was being held at Space Station Zeno, when they discovered that Gold Kryptonite was up for auction.
References
↑ As seen in Darkseid's Golden Trap (Part One).
Ad blocker interference detected!
Wikia is a free-to-use site that makes money from advertising. We have a modified experience for viewers using ad blockers

Wikia is not accessible if you've made further modifications. Remove the custom ad blocker rule(s) and the page will load as expected.