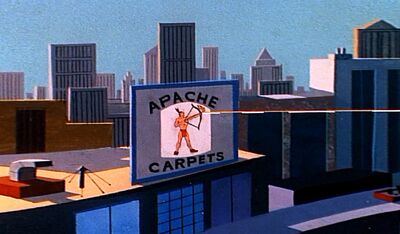 Apache Carpets is a carpet outlet store located in the city of Metropolis, near the Waterfront. The logo on the company's sign is an Apache Indian with a bow and arrow. Warlock once magically used the arrow to fire at an airplane. But Superman rescued the plane.
Appearance
The New Adventures of Superman
References
↑ As seen in The Men from A.P.E.
Ad blocker interference detected!
Wikia is a free-to-use site that makes money from advertising. We have a modified experience for viewers using ad blockers

Wikia is not accessible if you've made further modifications. Remove the custom ad blocker rule(s) and the page will load as expected.