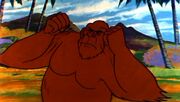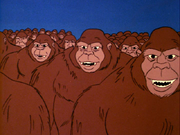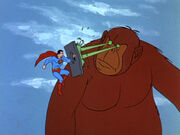 An ape is a type of simian animal that has many humanoid traits. Many types of apes, in particular gorillas, possess incredible strength. This could be why A.P.E. took the name, since they are a powerful force of supervillains, allied together to destroy the Man of Steel.
Doctor Rukus had his own army of apes in the Amazon, which consisted of gorillas led by Simbu.[4]
The Super-Apes are a culture of highly advanced gorillas from Gorilla City. They possess incredibly advanced technology and human-level intelligence.[5]
Types of apes
References
External Links
Ad blocker interference detected!
Wikia is a free-to-use site that makes money from advertising. We have a modified experience for viewers using ad blockers

Wikia is not accessible if you've made further modifications. Remove the custom ad blocker rule(s) and the page will load as expected.