Atlantis was a large continent or land mass that sunk below the sea many thousands of years ago.

There are at least four known Atlantean cities that have been found since the destruction of the continent.
One city still exists under the Atlantic Ocean, ruled by Aquaman. It is protected by a large dome. The city is called Poseidonis.[2]
Another surviving Atlantean city is ruled by Queen Ocina, who commands an all-female army. Their goal is to conquer mankind. This Atlantean island is able to move about throughout the oceans like a submarine, thanks to the technological wonders of the Atlanteans.[3]
The ruins of an Atlantean city were found through a sea fissure, deep in the Earth's core.[4]
Aqualad is from the Atlantean city, Tritonis.
It is unknown if any other Atlantean cities had survived the destruction of Atlantis.
Oceana is the 'forgotten' sister city to Atlantis.
References and Appearances
new SuperFriends (1978):
Season 4 (1979):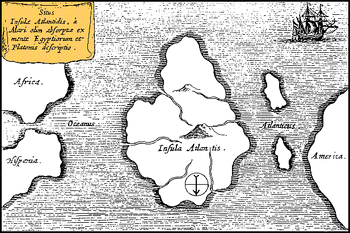 In the comics
Atlantis first appeared in the comic books, in Adventure Comics vol. 1, #260[8] (May 1959) and was created by Robert Bernstein and Ramona Fradon.
It was meant to be the Atlantis from mythology (the mythical island of Atlantis first mentioned in Plato's initial dialogue the Timaeus, written circa 360 BC).
The DC Comics mini-series The Atlantis Chronicles[9] details its' rich history much greater. But the history shown in this mini-series does not necessarily reflect the history of Atlantis in the Superfriends universe, since it is of another universe.
Links
References
Ad blocker interference detected!
Wikia is a free-to-use site that makes money from advertising. We have a modified experience for viewers using ad blockers

Wikia is not accessible if you've made further modifications. Remove the custom ad blocker rule(s) and the page will load as expected.