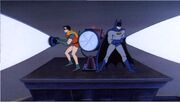 The Batlights are Batman's personal lighting devices which he uses as a warning beacon, or for other purposes, such as illuminating the dark.[3]
One type of Batlight was a flashlight used by Batman to send a message to Marvin and Wendy in Bat-code.[4]
Batman used his batlight when he, Aquaman, Robin and Wonder Woman were in the dark inside the Mole residence.[5]
Appearance
References
Ad blocker interference detected!
Wikia is a free-to-use site that makes money from advertising. We have a modified experience for viewers using ad blockers

Wikia is not accessible if you've made further modifications. Remove the custom ad blocker rule(s) and the page will load as expected.