Black Vulcan is a superhero with the ability to control lightning. He can also travel at the speed of light and beyond, allowing him to break the time barrier, and travel through time. He's also a member of the Justice League of America.
Nothing is know about Black Vulcan's origin.
In the William Street Universe, a counterpart of Black Vulcan exists.
In this universe, the Black Vulcan is a former Superfriend who also has the power to control electricity.
Black Vulcan soon joins Harvey Birdman, and together with a group of other minor heroes (as well as Jesse Jackson) they decide to form the "Multi-Culture Pals."
Powers & Abilities
Appearances
Notes
Other Versions
Black Lightning

Black Vulcan was a take off on Black Lightning, a character who already existed in the DC Comics Universe. Apparently there were challenges with the creator of Black Lightning, so Black Vulcan was invented.
When Black Lightning wasn't generating electricity through his body, he was a high school teacher and former Olympic decathlete. Jefferson Pierce returned to his old neighborhood in the Southside (Suicide Slum) of the city of Metropolis, with his wife Lynn Stewart and his daughter Anissa to become the principal of Garfield High School. Black Lightning debuted in Black Lightning vol.1, #1[2] (April 1977), and was created by Tony Isabella and Trevor Von Eeden.
Juice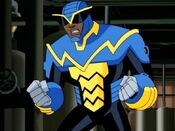 Juice is a fictional character featured in the animated series Justice League Unlimited and is a member of the Ultimen, a team of heroes deliberately made to be represent the members of the SuperFriends created for the TV show.[3]
External Links
Reference
↑ Go to the DC Database for more on Black Lightning vol.1, #1
Ad blocker interference detected!
Wikia is a free-to-use site that makes money from advertising. We have a modified experience for viewers using ad blockers

Wikia is not accessible if you've made further modifications. Remove the custom ad blocker rule(s) and the page will load as expected.