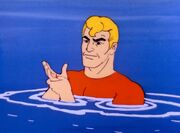 Blood was the bodily fluid of humans, animals and most alien species. When oxygenated, it appeared red, although some alien species had a variety of different colors of blood. As an example, Ungarans had purple blood.[2]
Mammals and birds generally had warm blood, while reptiles, amphibians and fish had cold blood.
Murder was a crime that was often referred to as Bloodshed, which referred to spilling blood. Without blood, a person could not live. In the case of Bruce Wayne's parents, this is what happened to them, after they were shot by a gun, they bled to death.
It was common in the medical field for patients with a low-blood count to receive blood transfusions.[3]
Vampires were creatures who fed on blood just like food. This was one of many reasons why Vampires were hated by so many people.
References
↑ As seen in the Superfriends season 7 episode Superclones (1983).
↑ This was never shown to be the case in the SFU but in DC Comics and other sources Ungarans have purple blood.
↑ As seen in the Superfriends season 7 episode A Pint of Life (1983).
External Links