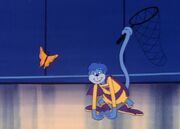 A butterfly is a mainly day-flying insect of the order Lepidoptera, which includes the butterflies and moths. Like other holometabolous insects, the butterfly's life cycle consists of four parts: egg, larva, pupa and adult. Most species are diurnal. Butterflies have large, often brightly colored wings, and conspicuous, fluttering flight. Butterflies comprise the true butterflies (superfamily Papilionoidea), the skippers (superfamily Hesperioidea) and the moth-butterflies (superfamily Hedyloidea). All the many other families within the Lepidoptera are referred to as moths.
References
↑ As seen in Coming of the Arthropods.
External Link
Ad blocker interference detected!
Wikia is a free-to-use site that makes money from advertising. We have a modified experience for viewers using ad blockers

Wikia is not accessible if you've made further modifications. Remove the custom ad blocker rule(s) and the page will load as expected.