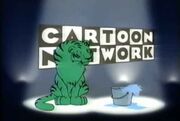 Cartoon Network is a Time Warner owned television network that has been playing episodes of Super Friends and The Superman/Batman Adventures since the mid-nineties.
It's sister network, Boomerang, has also played episodes of those shows over the years, including the non-edited versions of The Superman/Aquaman Hour of Adventure.
There have been multiple Super Friends bumpers and commercials that were original and exclusive to Cartoon Network, that featured the voice talents of actors such as Keith David.
Programing blocks
Cartoon Network/Super Friends videos
References
↑ As seen in a Wonder Twins promo.
External Links
Ad blocker interference detected!
Wikia is a free-to-use site that makes money from advertising. We have a modified experience for viewers using ad blockers

Wikia is not accessible if you've made further modifications. Remove the custom ad blocker rule(s) and the page will load as expected.