Crime Alley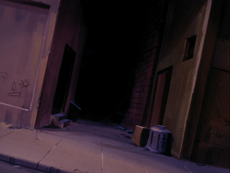 Crime Alley wasn't always called Crime Alley.
It was once part of a fashionable neighborhood in Gotham City.
This alley marks the location that Bruce Wayne's parents (Thomas and Martha Wayne) were killed, which came to be known as the Park Row tragedy. A mugger murdered them in front of young Bruce after the family had watched RoBIN HooD.[1]
Episode Appearance
Season 6 (1985):
References
↑ This is proably referring to, The Adventures of Robin Hood released in 1938 and directed by Michael Curtiz and William Keighley. Filmed in Technicolor, the picture stars Errol Flynn, Olivia de Havilland, Basil Rathbone, Claude Rains, Patric Knowles, Eugene Pallette, and Alan Hale.
Ad blocker interference detected!
Wikia is a free-to-use site that makes money from advertising. We have a modified experience for viewers using ad blockers

Wikia is not accessible if you've made further modifications. Remove the custom ad blocker rule(s) and the page will load as expected.