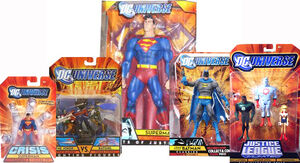 DC Universe is a brand of action figures made by Mattel. The action figure line features a variety of Super Friends figures, as well as a number of other versions of the characters, including from the Justice League Unlimited and Batman: The Brave and the Bold series. A large number of Super Friends toys were made for the line, including action figures of Apache Chief, El Dorado, Black Vulcan etc. There was also more modern looking designs of the classic Super Powers action figures made for the line.
List of DC Universe toys
DC Universe Classics
This wave was exclusive to Wal-Mart.
References
↑ This image was taken from Wikipedia.
Ad blocker interference detected!
Wikia is a free-to-use site that makes money from advertising. We have a modified experience for viewers using ad blockers

Wikia is not accessible if you've made further modifications. Remove the custom ad blocker rule(s) and the page will load as expected.