This article is a stub.
You can help SuperFriends Wiki by expanding it.
We have prepared templates as a guide to page creation.
(This template will categorize articles that include it into the "Category:Article stubs" category.)
The Daily Planet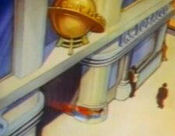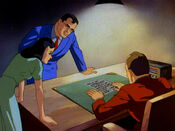 The Daily Planet is the Earth-2A counterpart of the Daily Planet of Earth-1A.
Background Information
On the parallel-universe of Earth-Two, the Daily Star was the newspaper that Clark Kent and Lois Lane worked for under the editorial management of George Taylor. In 1940, the name of the newspaper was changed to Daily Planet. Perry White, the Daily Planet's top reporter, would take the position of editor while George Taylor was away.
By the 1950s, the name of the newspaper was changed back to Daily Star, and George Taylor retires. Clark Kent is given the assignment of being the editor, rather than Perry White, Lois Lane-Kent is now promoted to "Lead Investigative Reporter," and Jimmy Olsen became a managing editor.
Ad blocker interference detected!
Wikia is a free-to-use site that makes money from advertising. We have a modified experience for viewers using ad blockers

Wikia is not accessible if you've made further modifications. Remove the custom ad blocker rule(s) and the page will load as expected.