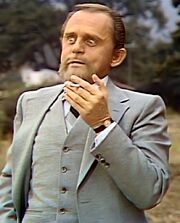 Grandiose delusions or delusions of grandeur are principally a subtype of delusional disorder but could possibly feature as a symptom of schizophrenia and manic episodes of bipolar disorder. Grandiose delusions are characterized by fantastical beliefs that one is famous, omnipotent, or otherwise very powerful. The delusions are generally fantastic, often with a supernatural, science-fictional, or religious bent.
References
↑ As seen in The Challenge.
Ad blocker interference detected!
Wikia is a free-to-use site that makes money from advertising. We have a modified experience for viewers using ad blockers

Wikia is not accessible if you've made further modifications. Remove the custom ad blocker rule(s) and the page will load as expected.