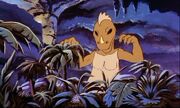 Dinosaurs are an animal species that were common on earth during prehistoric times. There are many types of Dinosaurs. Dragons may very well be a type of Dinosaur, or related to them.
The word "dinosaur" doesn't apply to just one species on Earth, but rather several species on Earth and other planets.
Image gallery
See also
Appearances
Coming soon!
References
Ad blocker interference detected!
Wikia is a free-to-use site that makes money from advertising. We have a modified experience for viewers using ad blockers

Wikia is not accessible if you've made further modifications. Remove the custom ad blocker rule(s) and the page will load as expected.