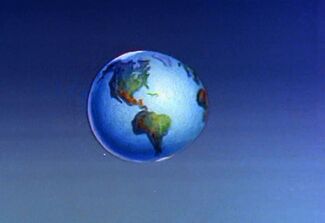 Earth-Forty is the official name of the second oldest official alternate reality of DC comics.[1]
See the DC Database entry on Earth-Forty for more details.
History
Earth-Forty's first hero was Superboy though he was raised and worked out of Metropolis rather then Smallville.[2]
In 1940 Billy Batson gained superpowers and took up the name Captain Thunder.[3]
During the 1940's Batman, Superman, and Wonder Woman all had adventures during WWII. In one of those adventures, Wonder Woman first encountered a blond haired Giganta with an origin of being an evolved ape. This Earth-Forty origin is revealed in the Super Friends (comic book) issue #30 (March 1, 1980).[4] Yet, in her earlier Season 3 appearance in the episode History of Doom it is revealed that she had always been human and had red not blond hair.
Batman married Batwoman (Katherine Kane) and eventually retired passing the mantel of the Batman to his son Bruce Wayne, Jr. sometime in the 1960s.
It was eventually revealedhypertime reality meaning it was not effected by Crisis and could interact with other realities distorting their histories and present.[5]
that this was a
References
Ad blocker interference detected!
Wikia is a free-to-use site that makes money from advertising. We have a modified experience for viewers using ad blockers

Wikia is not accessible if you've made further modifications. Remove the custom ad blocker rule(s) and the page will load as expected.