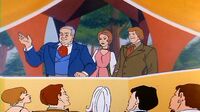 Engagement is a promise to marry. It is customary on the planet earth, particularly with humans, but it is also possibly practiced among other intelligent species on earth, such as Trolls and the Volti. Often times an engagement involves an engagement party.
J. Mortimer Hutchinson attempted to throw an engagement party for his daughter, Amanda Hutchinson, who was going to marry a young man. His first attempt was foiled by Doctor Pelagian, who caused it to rain oil at his estate.
His second attempt at throwing his daughter an engagement party was also foiled, because this time Doctor Pelagian sent a powerful wind.
Gallery
References
↑ As seen in Season 1 (1973): Dr. Pelagian's War.
External Link
Ad blocker interference detected!
Wikia is a free-to-use site that makes money from advertising. We have a modified experience for viewers using ad blockers

Wikia is not accessible if you've made further modifications. Remove the custom ad blocker rule(s) and the page will load as expected.