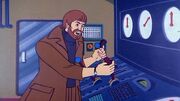 Engineering is the science, skill, and profession of acquiring and applying scientific, economic, social, and practical knowledge, in order to design inventions, such as building structures, machines, devices, systems, materials and processes.
One of the most brilliant engineers in the world is Professor Hillbrand, who engineered his own submarine, and it's computer was capable of many incredible feats.
Types of Engineering
Appearances/References
References
↑ As seen in Dr. Pelagian's War.
External Link
Ad blocker interference detected!
Wikia is a free-to-use site that makes money from advertising. We have a modified experience for viewers using ad blockers

Wikia is not accessible if you've made further modifications. Remove the custom ad blocker rule(s) and the page will load as expected.