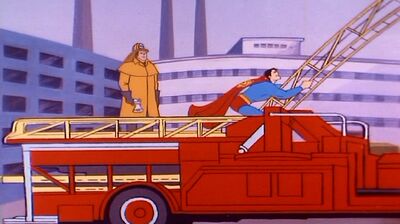 This firetruck was used by the Gotham City Fire Department in an attempt to rescue some people from the top of Fenwick Tower. Wendy was among these people that were trapped at the top and exposed to smoke. Their ladder wasn't able to reach however, so Superman took the truck's ladder up closer to get them down.
Appearance
References
↑ As seen in Dr. Pelagian's War.
Ad blocker interference detected!
Wikia is a free-to-use site that makes money from advertising. We have a modified experience for viewers using ad blockers

Wikia is not accessible if you've made further modifications. Remove the custom ad blocker rule(s) and the page will load as expected.