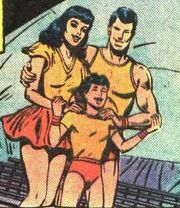 The Flying Graysons were a team of trapeze performers at the Haly's Circus. They are made up of John Grayson, his wife Mary Grayson, and their son; Dick Grayson.
A mobster named Tony Zucco killed all but Dick Grayson when he sabotaged their circus act, causing the two of them to fall to their deaths, as there was no safety net below.
This was the incident that led the young Grayson boy to become trained by Batman, who took him in; as a crime fighter.
Notes
The Flying Graysons first appeared in Detective Comics # 38 (April 1940).[2]
Reference
Hanna Barbera's Super Friends, Season 1 (1973):
References
↑ As seen in The Planet-Splitter.
↑ For more information about that DC comic book, click here.
External Links
Ad blocker interference detected!
Wikia is a free-to-use site that makes money from advertising. We have a modified experience for viewers using ad blockers

Wikia is not accessible if you've made further modifications. Remove the custom ad blocker rule(s) and the page will load as expected.