Conjectural Information
The title or other information in this article is conjectural.
The information here does not contribute anything canonical in the SuperFriends Universe.
It has been conjectured based on information from the known DC Universe at the time.
Please see the reasons in the "Background Information" section below, and/or the relevant discussion on the talk page.

(This template will categorize articles that include it into the "Conjectural" category.)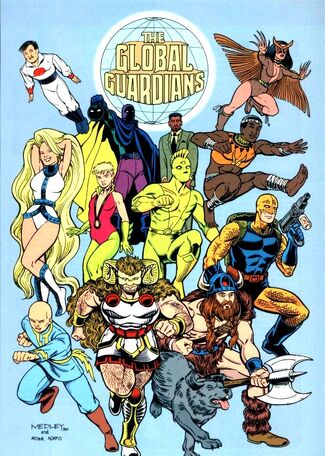 The Global Guardians are a team of superheroes whose members hail from countries around the world.
They first came together in late 1977, to defeat an alien villain called Grax (an old Superman foe). Grax had planted bombs on Earth's seven continents to destroy it. Thanks to a warning from the Wonder Twins the SuperFriends discovered the plan in time and recruited the heroes of the countries affected to find the bombs before they exploded.
It wasn't until 1982 that they were introduced as the team known as Global Guardians, in which they helped Superman stop an evil sorcerer.[1]
The Original Global Guardians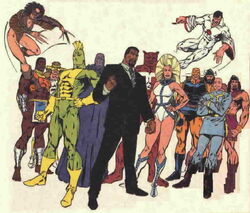 Continuity Related Appearances
Notes
References
↑ As revealed in DC Comics Presents, #46 (June 1982)
↑ Greenberger, Robert (2008), "Global Guardians", in Dougall, Alastair, The DC Comics Encyclopedia, New York: Dorling Kindersley, p. 138, ISBN 0-7566-4119-5, OCLC 213309017. Manning, Matthew K.; Dolan, Hannah, ed. (2010). "1980s". DC Comics Year By Year A Visual Chronicle. Dorling Kindersley. p. 197. ISBN 978-0-7566-6742-9. The DCU's newest superhero team, the Global Guardians, was formed in this Superman tale by writer E. Nelson Bridwell and penciler Alex Saviuk.