Filmation Character
Glorious Gal
Real Name 
AKA 
Glory
Species 
Metahuman
Homeworld 
Earth
Universe 
Earth-1A
Hair Color 
blonde
Eye Color 
Relatives 
Apprentice to 
Affiliation 
Hero High
Base 
Hero High
Enemy of 
Abilities 
Superhuman strength, Incredible mental powers such as telepathy and others
Weaponry 
Played by 
Becky Perle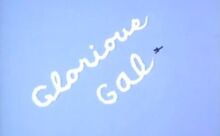 Glorious Gal is a backup singer of the band Hero High, and a superhero student at Hero High school. She dates fellow student superhero Captain California.
Powers and Abilities
Unknown.
Appearances
Coming soon!
Notes
She has a constant rivalry with fellow student and band member Dirty Trixie, who also is in love with Captain California and wants him for herself, but instead she hangs around Rex Ruthless, who ironically wants Glorious Gal as well, and so they work together occasionally...trying to come up with schemes get the two to break up.