Gotham City is the hometown of Batman and his ward Robin. It is also where Riddler and Scarecrow have their hideouts.
Gotham City is in close proximity, if not adjacent to Metropolis.[2]
City Departments
Locations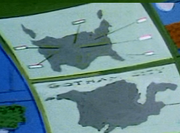 Banks
Recreation
Colleges and Schools
Hills and Mountains
Scientific / Medical Facilities
Museums
Newspaper publishers
Businesses
Districts/Neighborhoods
Streets and bridges
Miscellaneous
Residences
Local sports teams
Notes
Coming Soon!!
Appearances in Other Media
Coming Soon!
References