First Date
[[Image:|300px|center]]
Previous Episode
Next Episode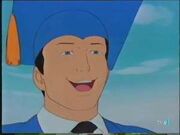 Clark Kent graduates from high school. However, his commencement is full of setbacks, as his graduation gown gets muddied and along the way there he sees a disabled electric fence and cows out wandering aimelessly. Can Clark fix the problems and be there in time to get his diploma?
Ad blocker interference detected!
Wikia is a free-to-use site that makes money from advertising. We have a modified experience for viewers using ad blockers

Wikia is not accessible if you've made further modifications. Remove the custom ad blocker rule(s) and the page will load as expected.