Greenback uses money as his weapon.
Background Information
Greenback is a mediocre-villain who's obsessed with money. He chooses to begin his crime spree during a telethon even hosted by the Super Friends and their teenage sidekicks Wendy and Marvin.
His first target is Bruce Wayne who makes a charitable donation to a Super Friends telethon.
His plan fails however, and his crime-spree is short live.[1]
Abilities
None
Weapons
A dollar-sign-shaped gun which uses compressed air to fire coins at a deadly velocity.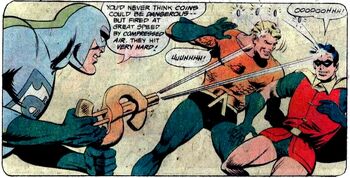 Appearances
Notes
Greenback was created specifically for the original comic book run of the Super Friends Comic Book. His first appearance was in Super Friends #5 (June, 1977).
References
↑ Story from the Super Friends (comic book) issue #5.
Ad blocker interference detected!
Wikia is a free-to-use site that makes money from advertising. We have a modified experience for viewers using ad blockers

Wikia is not accessible if you've made further modifications. Remove the custom ad blocker rule(s) and the page will load as expected.