Greg Reed was an actor who played Superman in both movies and on TV.
Background Information
In the parallel-universe of Earth-One, Greg was the victim of an accident. While on set, a staged fire got out of control and burned off his hair and scarred his skin.[1]
Plastic surgeons were unable to help. Superman however, using a technique he learned on Krypton was able to restore Greg his natural appearance.[2]
During the summer of 77', Greg is a co-host on a telethon hosted by Justice League and the SuperFriends.[3]
Powers and Abilities
Abilities
Weaknesses
Appearances
Greg did not appear in any episodes of the Superfriends.
Notes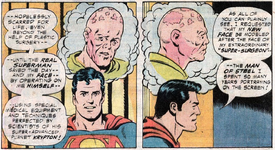 Greg first appeared in Action Comics, #414 (July, 1972)
External Links
References
↑ As revealed in Action Comics, #414 (July, 1972).
↑ As revealed in Action Comics, #445 (March, 1975).
↑ As revealed in Super Friends, Vol. 2 #5 (June 1, 1977).
Ad blocker interference detected!
Wikia is a free-to-use site that makes money from advertising. We have a modified experience for viewers using ad blockers

Wikia is not accessible if you've made further modifications. Remove the custom ad blocker rule(s) and the page will load as expected.