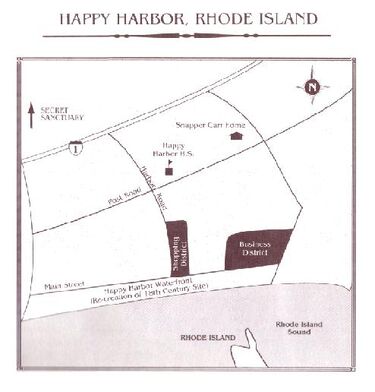 Happy Harbor is located just south of U.S. Route 1, next to Rhode Island Sound, in Rhode Island, U.S.A..[2] The city houses the secret location of the JLA's original headquarters, which they used briefly during the late '60s. As the home of the Justice League, the city would often become the target of various super powered beings, such as an alien invasion by the brainwashing Starro.
Happy Harbor was settled in 1673 as a fishing and farming community. The harbor made an area an almost instant financial success, and Happy Harbor became one of the main northern New England ports of the 18th century. Today, Happy Harbor is still a prosperous community, with many of its' 23,000 residents earning their living from the tourism of the town.
Locations[3]
Streets
Neighborhoods
Natives
This New England municipality was also the home of Junior, Justice League member, Snapper Carr.
Notes
Gallery
References
External Links
Ad blocker interference detected!
Wikia is a free-to-use site that makes money from advertising. We have a modified experience for viewers using ad blockers

Wikia is not accessible if you've made further modifications. Remove the custom ad blocker rule(s) and the page will load as expected.