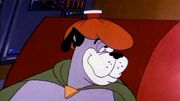 A headache or cephalalgia is pain anywhere in the region of the head or neck. It can be a symptom of a number of different conditions of the head and neck. The brain tissue itself is not sensitive to pain because it lacks pain receptors. Rather, the pain is caused by disturbance of the pain-sensitive structures around the brain. Nine areas of the head and neck have these pain-sensitive structures, which are the cranium (the periosteum of the skull), muscles, nerves, arteries and veins, subcutaneous tissues, eyes, ears, sinuses and mucous membranes.
References
↑ As seen in The Baffles Puzzle.
External Link
Ad blocker interference detected!
Wikia is a free-to-use site that makes money from advertising. We have a modified experience for viewers using ad blockers

Wikia is not accessible if you've made further modifications. Remove the custom ad blocker rule(s) and the page will load as expected.