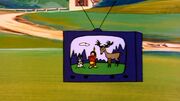 Henry Wadsworth Longfellow (1807-1882) was an American poet during the 16th century. He wrote the poem called The Song of Hiawatha.
Powers and Abilities
None.
Known works of Longfellow
Notes
Appearances/References
References
↑ As seen in Professor Goodfellow's G.E.E.C. (1973).
↑ For more information about this DC comic book, click here
External Links
Ad blocker interference detected!
Wikia is a free-to-use site that makes money from advertising. We have a modified experience for viewers using ad blockers

Wikia is not accessible if you've made further modifications. Remove the custom ad blocker rule(s) and the page will load as expected.