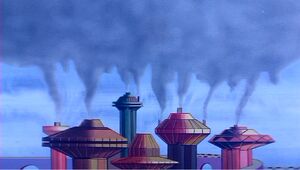 Industry is the production of an economic good or service within an economy.
Kolbar compared Solar Terrarium's industry years in the past to the way it is on Earth now.[2]
Hank and Ben told Marvin and Wendy that transforming quarks into any metal imaginable meets the needs of the industry better.[3]
Major industries
See also
References
↑ As seen on Solar Terrarium in the Season 1 episode Too Hot to Handle.
↑ This means that their industry, many years, perhaps centuries prior to the '70s, was comparable to Earth's industry in the '70s.
↑ As seen in The Ultra Beam.
External Links
Ad blocker interference detected!
Wikia is a free-to-use site that makes money from advertising. We have a modified experience for viewers using ad blockers

Wikia is not accessible if you've made further modifications. Remove the custom ad blocker rule(s) and the page will load as expected.