Jessica Morganberry is Lex Luthor's female assistant at LexCorp. Despite her loyalty towards her employer, she is often verbally abused by Luthor, who calls her names such as "Neanderthal" and "Cerebral flatline." She also has a huge crush on Superman.
Powers and Abilities
None.
Unknown.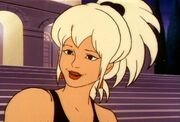 Notes
Miss Morganberry was often portrayed as the "ditzy blonde" stereotype, and often to the extreme.
She's Lex Luthor's first female sidekick in the SuperFriends universe, and was possibly based upon the character Miss Tessmacher from the Superman movies starring Christopher Reeve, who was in turn likely a prototype for Mercy Graves, who was Luthor's assistant in the DC animated universe.
She affectionately calls Lex Luthor "Lexy."
References
↑ As seen in Destroy the Defendroids.
↑ As seen in Destroy the Defendroids.
↑ As seen in Destroy the Defendroids.
External Links
Ad blocker interference detected!
Wikia is a free-to-use site that makes money from advertising. We have a modified experience for viewers using ad blockers

Wikia is not accessible if you've made further modifications. Remove the custom ad blocker rule(s) and the page will load as expected.