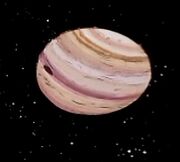 Jupiter is the fifth planet from the Sun and the largest planet within our Solar System. Jupiter is classified as a gas giant along with Saturn, Uranus and Neptune. Together, these four planets are sometimes referred to as the Jovian planets.
The planet was known by astronomers of ancient times and was associated with the mythology and religious beliefs of many cultures. The Romans named the planet after the Roman god Jupiter.
Surrounding the planet is a faint planetary ring system and a powerful magnetosphere. There are also at least 63 moons, including the four large moons called the Galilean moons that were first discovered by Galileo Galilei in 1610. Ganymede, the largest of these moons, has a diameter greater than that of the planet Mercury.
Indigenous species
Reference
↑ As seen in the Space Sentinels, TV series (1977) episode, The Jupiter Spore.
↑ Referenced in The Superman/Aquaman Hour of Adventure (1967-1968) episode, The Twenty-Third Dimension
External Links
Ad blocker interference detected!
Wikia is a free-to-use site that makes money from advertising. We have a modified experience for viewers using ad blockers

Wikia is not accessible if you've made further modifications. Remove the custom ad blocker rule(s) and the page will load as expected.