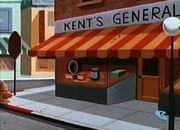 Kent's General Store was a general store located in Smallville, which was owned and operated by a local farmer named Jonathan Kent.
During the 1950s, Clark Kent also worked at this store, although he would constantly have to speed off to save the day, as the world seemed to always be filled with disasters and it would very often take him away from his work at the store.
References
↑ As seen in The Deep Sea Dragon (1966).
External Link
Ad blocker interference detected!
Wikia is a free-to-use site that makes money from advertising. We have a modified experience for viewers using ad blockers

Wikia is not accessible if you've made further modifications. Remove the custom ad blocker rule(s) and the page will load as expected.