King Arthur was the king of the Britains who commanded the Knights of the Round Table to protect his kingdom and Camelot from evil during the 6th century.
His wizard was named Merlin.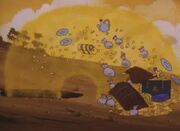 Powers and Abilities
None.
Appearances/References
The New Adventures of Superman
Season 3 (1978):
Notes
References
↑ For more information about this DC comic book, click here.
External Links
Ad blocker interference detected!
Wikia is a free-to-use site that makes money from advertising. We have a modified experience for viewers using ad blockers

Wikia is not accessible if you've made further modifications. Remove the custom ad blocker rule(s) and the page will load as expected.