Kryptonite is a radioactive Kryptonian mineral / meteor fragment.
It refers to any fragment of the exploded planet Krypton.
"
The only substance in the universe that can zap (Superman's) strength if he comes within 20 feet of it.
"
Various Types of Kryptonite:
Green Kryptonite
| | | |
| --- | --- | --- |
| | | Although rare, is the most common type. It is harmful to natives of the planet Krypton. If one is exposed long enough, they could go into a Kryptonian trance[1] or it will turn their skin green from Kryptonite poisoning, and not long after it could kill them. Typically, by the time the skin is green, it's too late. Villains use Green K as a weapon to defeat Superman. Green K was a key element in Doctor Natas's Noxium crystal. |
Red Kryptonite
| | | |
| --- | --- | --- |
| | | Although Red K has no fatal effects on Kryptonians, it's effects are still unpredictable. It could give Superman extra arms, or it could even turn him into a child. It could do a ton of other things. Red K is unpredictable, there's no telling what may happen. But one thing about these unpredictable effects, is that they are only temporary, usually only lasting about a day. |
Blue Kryptonite
| | | |
| --- | --- | --- |
| | | Blue K isn't harmful to Kryptonians at all, in fact, when injured, it can heal them. However, it's effects on Bizarros (such as Bizarro himself) is deadly. It can be created by using the faulty duplicator that produced Bizarro on Green Kryptonite, although naturally-existing pieces have appeared in a few instances. |
Gold Kryptonite
White Kryptonite
Brown Kryptonite
| | | |
| --- | --- | --- |
| | | Brown Kryptonite was a type of Kryptonite that was brownish in color. Its' effects on Kryptonians, if any is unknown.[3] |
| | | |
| --- | --- | --- |
| | | Purple Kryptonite was a type of Kryptonite that was purple in color. Like brown Kryptonite, it is unknown if had any effects on Kryptonians or anyone else for that matter.[4] |
Krypton Steel
Krypton Steel is another form of Kryptonite, that is also presumably a very rare form. It's basically Krypton's version of the earth metal known as "steel." It's harmless to Kryptonians, but it's also indestructible to anything except for Superman, or possibly another equally powerful being.[5] Some forms of Krypton steel however, are even indestructible to Superman.[6]
Episode Appearances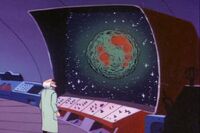 More coming soon!
References