Kryptonite is a radioactive Kryptonian mineral / meteor fragment.
It refers to any fragment of the exploded planet Krypton.
"
The only substance in the universe that can zap (Superman's) strength if he comes within 20 feet of it.
"
There are a wide variety of types of Kryptonite:
Krypton Steel
Krypton Steel is another form of Kryptonite, that is also presumably a very rare form. It's basically Krypton's version of the earth metal known as "steel." It's harmless to Kryptonians, but it's also indestructible to anything except for Superman, or possibly another equally powerful being.[3] Some forms of Krypton steel however, are even indestructible to Superman.[4]
Episode Appearances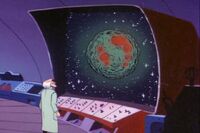 More coming soon!
References
Ad blocker interference detected!
Wikia is a free-to-use site that makes money from advertising. We have a modified experience for viewers using ad blockers

Wikia is not accessible if you've made further modifications. Remove the custom ad blocker rule(s) and the page will load as expected.