You may be looking for Mad Hatter (literary character).
Mad Hatter
Information
Real name:
Jervis Tetch
Species:
Human
Hair:
white
Base:
Gotham City
Rogue of:
Batman
Played by:
 ???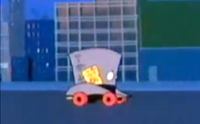 The Mad Hatter is a supervillain from Gotham City that is obsessed with hats. He named himself after the famous Alice in Wonder Land character of the same name. Many of his crimes are often inspired by the events of Alice in Wonder Land.
Appearance
The Batman/Superman Hour (1977):
Notes
The Mad Hatter made his first appearance in Detective Comics #49 (October 1948).