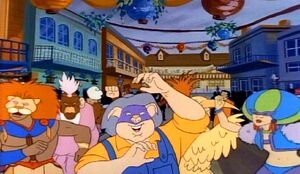 The terms "Mardi Gras" (pronounced /ˈmɑrdiɡrɑː/), "Mardi Gras season", and "Carnival season", in English, refer to events of the Carnival celebrations, beginning on or after Epiphany and ending on the day before Ash Wednesday. Mardi Gras is French for "Fat Tuesday" (in ethnic English tradition, Shrove Tuesday), referring to the practice of the last night of eating richer, fatty foods before the ritual fasting of the Lenten season, which started on Ash Wednesday. Related popular practices were associated with celebrations before the fasting and religious obligations associated with the penitential season of Lent. Popular practices included wearing masks and costumes, overturning social conventions, dancing, sports competitions, parades, etc. Similar expressions to Mardi Gras appear in other European languages sharing the Christian tradition. In English, the day is called Shrove Tuesday, associated with the religious requirement for confession before Lent begins.
References
↑ As seen in the Swamp Thing episode Experiment in Terror
Ad blocker interference detected!
Wikia is a free-to-use site that makes money from advertising. We have a modified experience for viewers using ad blockers

Wikia is not accessible if you've made further modifications. Remove the custom ad blocker rule(s) and the page will load as expected.