Mark L. Taylor[1]
Birthname: Mark L. Taylor

Born: October 25, 1950

Birthplace: Syracuse, New York, USA

Mark L. Taylor (born October 25, 1950) is an American actor who has appeared in various shows such as Beverly Hills, 90210, Melrose Place, Chicago Hope, Ally McBeal, Boston Legal and V: The Final Battle.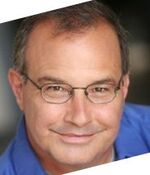 Voice on Super Friends
As the voice of Jimmy Olsen
Notable Voiceover work
Notable animation voice credits include:
Jetsons, The (1962, Animated Series)
Mork & Mindy (1982, Animated Series)
Challenge of the GoBots (1984, Animated Series)
DuckTales (1987, Animated Series)
Pup Named Scooby-Doo, A (1988, Animated Series)
TaleSpin (1990, Animated Series)
Problem Child (1993, Animated Series)
Twisted Tales of Felix the Cat, The (1995, Animated Series)
Mask: The Animated Series, The (1995, Animated Series)
Incredible Hulk, The (1996, Animated Series)
Real Adventures of Jonny Quest, The (1996, Animated Series)
Extreme Ghostbusters (1997, Animated Series)
W.I.T.C.H. (2005, Animated Series)
Filmography Includes
Family Matters; one episode
The Other Me as Mr. Browning
Eddie's Million Dollar Cook-Off as Eddie's father/coach
The Real Son as Mr Deansman
High School Musical 2 as Mr. Fulton
Raise the Titanic as Spence
Summerland as Ed
Innerspace (1987)
Honey I Shrunk the Kids (1989)
External links
References
↑ Picture from the 1984 'V' mini-series, V: The Final Battle. He portrayed, Dr. Fred King.
Ad blocker interference detected!
Wikia is a free-to-use site that makes money from advertising. We have a modified experience for viewers using ad blockers

Wikia is not accessible if you've made further modifications. Remove the custom ad blocker rule(s) and the page will load as expected.