This article is a stub.
You can help SuperFriends Wiki by expanding it.
We have prepared templates as a guide to page creation.
(This template will categorize articles that include it into the "Category:Article stubs" category.)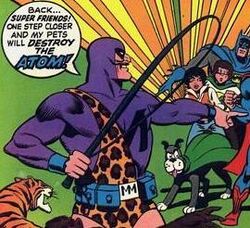 The Menagerie Man is the world's greatest animal trainer.
Background Information
The SuperFriends tackle the Menagerie Man, a villain who can cause animal aides to appear seemingly from nowhere.
A few months later, Wilson Gable; the Menagerie Man, steals Gleek and uses him to commit crimes.
Abilities
The Menagerie Man is an expert at falconry or hawking (a sport which involves the use of trained birds of to prey hunt or pursue game for humans).
Appearances
References
↑ As revealed in SuperFriends, #19 (April 1979).
Ad blocker interference detected!
Wikia is a free-to-use site that makes money from advertising. We have a modified experience for viewers using ad blockers

Wikia is not accessible if you've made further modifications. Remove the custom ad blocker rule(s) and the page will load as expected.