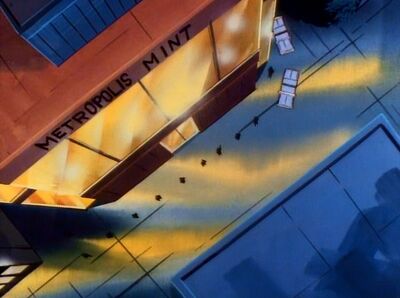 The Metropolis Mint is the Metropolis branch of the U.S. Government Mint, located in Washington, D.C.
Lex Luthor tried to rob the Metropolis Mint on two separate occasions. The first time he did it with the aid of Merlin's Shadow potion,[1] and the second time he did it with the aid of the Shadow suits.[2]
Appearances
The New Adventures of Superman
References
↑ As seen in Merlin's Magic Marbles.
↑ As seen in Night of the Living Shadows, which ironically also had Luthor using some form of "Shadow" device. The first was the Shadow potion and the second was the Shadow suits!
Ad blocker interference detected!
Wikia is a free-to-use site that makes money from advertising. We have a modified experience for viewers using ad blockers

Wikia is not accessible if you've made further modifications. Remove the custom ad blocker rule(s) and the page will load as expected.