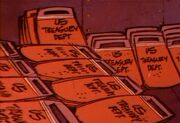 Money is anything that is used for payment for goods or services in any given country or society. Money is used all over Earth. In America, the dollar is common, while in the United Kingdom, they use pounds. Money is also used on other worlds in outer space.
Money, or the love of it rather, has been described as the "root of all evil," which were words written by the Apostle Paul in his First Epistle to Timothy.[2]
The United States Government made Hank and Ben pay for all the damage they caused using the profits they illegally earned from UltraTech.[3]
The Raven offered to give Paw Martingale all kinds of money for his sky stone, but Martingale refused to sell it.[4]
The Vanderbulge Star Sapphire was supposedly the world's most valuable sapphire in the 1970s, in terms of its' worth in money.[5]
Types of money
Appearances
References
External Links
Ad blocker interference detected!
Wikia is a free-to-use site that makes money from advertising. We have a modified experience for viewers using ad blockers

Wikia is not accessible if you've made further modifications. Remove the custom ad blocker rule(s) and the page will load as expected.