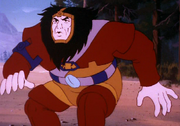 The Old Gods were an ancient race of humanoid aliens from the planet Urgrund.
During a war of cosmic proportions, their homeworld of Urgrund was split in two. The Old Gods were no more, they had died, but their descendants however, survived, and lived on Apokolips and New Genesis, both of which were two planets that had formed from the older and much larger planet's destruction. This race became known as the New Gods.
When Oliver Queen was on Starfish Island, Starro told him that he was one of the Elder Gods, who were even older than the Old Gods.[2]
References
↑ As seen in The Seeds of Doom (1985).
↑ As seen in Cave Carson # 3 (2017).
External Links
Ad blocker interference detected!
Wikia is a free-to-use site that makes money from advertising. We have a modified experience for viewers using ad blockers

Wikia is not accessible if you've made further modifications. Remove the custom ad blocker rule(s) and the page will load as expected.