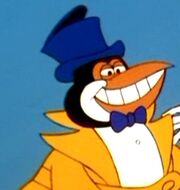 Penguins are a type of bird. Unlike most species of birds, Penguins do not have the power of flight. They are commonly seen in water and where it is cold. The Penguin took his name from this type of bird.
Known penguins
References
↑ As seen in Do The Computer Stomp.
External Links
Ad blocker interference detected!
Wikia is a free-to-use site that makes money from advertising. We have a modified experience for viewers using ad blockers

Wikia is not accessible if you've made further modifications. Remove the custom ad blocker rule(s) and the page will load as expected.