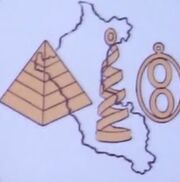 Peru, officially the Republic of Peru, is a country in western South America.
It is bordered on the north by Ecuador and Colombia, on the east by Brazil, on the southeast by Bolivia, on the south by Chile, and on the west by the Pacific Ocean.
Its geography varies from the arid plains of the Pacific coast to the peaks of the Andes mountains and the tropical forests of the Amazon Basin.
Natives
Locations
Appearance
The Plastic Man Comedy/Adventure Show (1979-1981):
References
↑ As seen in The Mummy of Nazca.
External Links
Ad blocker interference detected!
Wikia is a free-to-use site that makes money from advertising. We have a modified experience for viewers using ad blockers

Wikia is not accessible if you've made further modifications. Remove the custom ad blocker rule(s) and the page will load as expected.