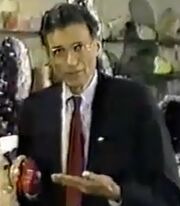 Ralph Nader; born (February 27, 1934) is a Lebanese American attorney, author, lecturer, political activist, and four-time candidate for President of the United States, having run as a Green Party candidate in 1996 and 2000, and as an independent candidate in 2004 and 2008.
When Batman and Robin were about to purchase a car from Honest Al's Used Car Dealer, Batman tells him they should check to make sure the vehicle is safe first. Robin then says: "Holy Ralph Nader!"[2]
Ralph Nader also appeared in a commercial informing the public to "know your Kryptonite." He informed the public about certain things to observe when purchasing kryptonite, and when such things are not observed, you should take your business elsewhere.[3]
Powers and Abilities
None.
References
↑

As seen in a commercial.

↑ As seen in The Challenge.
↑ As seen in the Ralph Nader Kryptonite commercial.
External Links
Ad blocker interference detected!
Wikia is a free-to-use site that makes money from advertising. We have a modified experience for viewers using ad blockers

Wikia is not accessible if you've made further modifications. Remove the custom ad blocker rule(s) and the page will load as expected.