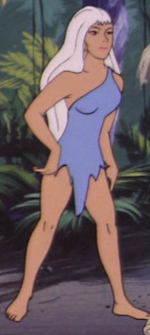 Rima the Jungle Girl is a superheroine and a part-time member of the Justice League of America.
Background Information
Natives avoided her forest, calling her "the Daughter of the Didi" (an evil spirit), but Rima's only defense is a reputation for magic, earned through the display of strange talents such as talking to birds, befriending animals, and plucking poison darts from the air.[1]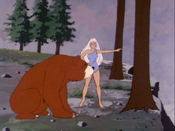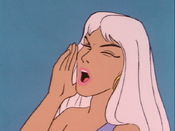 Powers and Abilities
Animal Empathy: She has the ability to understand and communicate with animals.
Zoology: She has an extensive knowledge of animal habitats and jungle lore, despite never receiving the education in school.
Athletic Body: Although she plays no professional sports, she has an athletic body. She possesses the strength level of a woman her age, size and weight who engages in intensive regular exercise.
Episode Appearances
Notes
Rima sprang from a Victorian adventure novel, 'Green Mansions: A Romance of the Tropical Forest', published in 1904 by the Argentine-British writer W. H. Hudson. He based Rima on a persistent South American legend about a lost tribe of white people who lived in the mountains. The novel was adapted into a film of the same name in 1959 in which actress Audrey Hepburn portrayed her. The film also starred Anthony Perkins and was directed by Mel Ferrer.
Rima first appeared in comic book form in Rima the Jungle Girl vol.1, #1[2] (May 1974).

The series was a short-lived seven-issue comic book series Rima the Jungle Girl, published by DC Comics from May 1974 to May 1975.Which was an adaptation of the original novel until issue #4, then became original stories, picking up where the film left off.[3].
Rima the Jungle Girl is published on a bi-monthly basis.
It was adapted by an uncredited writer. Starting with issue #5, DC writer-editor Robert Kanigher is given credit.

Rima is not intended to be a Tarzan type character, rather she was intended to be portrayed as:[4]

goddess of the forest
preserver of the forest
preserver of the animals
External Links
References