You may be looking for The Kid Super Power Hour with Shazam! (the 1981 animated series).
You may be looking for Shazam the Wizard.
You may be looking for Captain Marvel, 'The World's Mightiest Mortal.'
Original Run
9/7/1974 - 10/16/1976
Production

Producer(s)
Norm Prescott
Lou Scheimer
Dick Rosenbloom
Production Company
{{{ProdCompany}}}

Shazam! was Filmations first live-action television series that ran from 1974 to 1976.
The show spawned a spin-off, The Secrets of Isis, and in 1975 the two paired up together, becoming The Shazam/Isis Hour.
Series Summary
The series featured young Billy Batson (Michael Gray) and his elderly guardian, known only as Mentor (Les Tremayne). Together they traveled across 1970's United States[1] in an RV, righting wrongs and helping those in need. Billy is on vacation from his job at the News building,[2] so as to be mentored to be a superhero. When trouble arose, Billy exited the RV, spoke the magic word "Shazam". He was instantly struck by a magic lightning-bolt and transformed via animation and special effects into the World's Mightiest Mortal, Captain Marvel.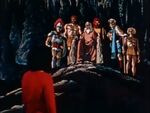 The series departed greatly from accepted comic book canon, in that Billy never interacted directly with the wizard Shazam. In fact, Shazam was not even included as a part of the series, and was only referenced as a power-name that Billy invoked to transform into Captain Marvel. Instead, he speaks to the six Elders, an analog to the six ancients who bequeath their powers to Batson in the comic books. These six Elders are: Solomon, Hercules, Atlas, Zeus, Achilles, and Mercury. The only member of the Elders ever referenced by name was Solomon, who usually spoke to Billy through a red, glowing device mounted on the console of Mentor's RV. When the Elders appeared before Billy, they are in a vast cavern taking the form of a mystic montage of animated characters, rather than actual actors.
There were no supervillains and violence was downplayed. Billy, as both himself and as Captain Marvel, would help people out of difficult situations of their own making. As in many Filmation shows and cartoons, moral messages were contained within each episode, crystallized at the end of each episode either by Billy learning a new moral lesson from either Mentor or his empowering elders.
Principal Cast
Opening Narration
Each episode began with the following narration, accompanied by a mix of live action and animation:
"
Chosen from among all others by the Immortal Elders; Solomon, Hercules, Atlas, Zeus, Achilles, Mercury...

Billy Batson and his mentor travel the highways and byways of the land on a never-ending mission: to right wrongs, to develop understanding, and to seek justice for all!

In time of dire need, young Billy has been granted the power by the Immortals to summon awesome forces at the utterance of a single word: SHAZAM!

.... a word which transforms him in a flash into the mightiest of mortal beings Captain Marvel!

"

— Opening Narration
Episode List:
Season 1 (1974)
|     Ep #     |     Episode Name    |     Air Date     |
| --- | --- | --- |
| 1 |     The Joyriders     |     September 7, 1974    |
| 2 |     The Brothers     |     September 14, 1974    |
| 3 |     Thou Shalt Not Kill     |     September 21, 1974    |
| 4 |     The Lure Of The Lost     |     September 28, 1974    |
| 5 |     The Road Back     |     October 5, 1974     |
| 6 |     The Athlete     |     October 12, 1974     |
| 7 |     The Treasure     |     October 19, 1974     |
| 8 |     The Boy Who Said "No"     |     October 26, 1974     |
| 9 |     The Doom Buggy     |     November 2, 1974     |
| 10 |     The Brain     |     November 9, 1974     |
| 11 |     Little Boy Lost     |     November 16, 1974     |
| 12 |     The Delinquent     |     November 23, 1974     |
| 13 |     The Braggart     |     November 30, 1974     |
| 14 |     The Past Is Not Forever     |     December 7, 1974     |
| 15 |     The Gang's All Here     |     December 14, 1974     |
Season 2 (1975)
Season 3 (1976)
References
↑ In real life it was California.
↑ As told in the episode The Joyriders.
Ad blocker interference detected!
Wikia is a free-to-use site that makes money from advertising. We have a modified experience for viewers using ad blockers

Wikia is not accessible if you've made further modifications. Remove the custom ad blocker rule(s) and the page will load as expected.