Spider-Man was a superhero from the Marvel Universe. In reality, he is Peter Parker, a photographer for the Daily Bugle.
History
Presumably, the Spider-Man of this reality was nothing more than a fictional character from comic books, much like Hulk, who often appeared in the same comics with him, such as The Incredible Hulk and other Marvel Comics.[1]
However it should also be noted, that it is still possible that Spider-Man did exist in this reality, because the Daily Bugle; his place of employment did exist.[2]
On this Earth, it seems likely that Spider-Man was a real person, as his teammates in the Avengers; such as Wolverine, were seen to be real on this Earth. At one point, the Avengers rescued President Barack Obama from the clutches of Lex Luthor. Whether or not Spider-Man was involved in this mission was never revealed.[3]
Powers and Abilities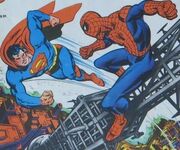 Appearances
Notes
Spider-Man first appeared in Amazing Fantasy # 15 (August 1962).[5]
References
External Links
Ad blocker interference detected!
Wikia is a free-to-use site that makes money from advertising. We have a modified experience for viewers using ad blockers

Wikia is not accessible if you've made further modifications. Remove the custom ad blocker rule(s) and the page will load as expected.